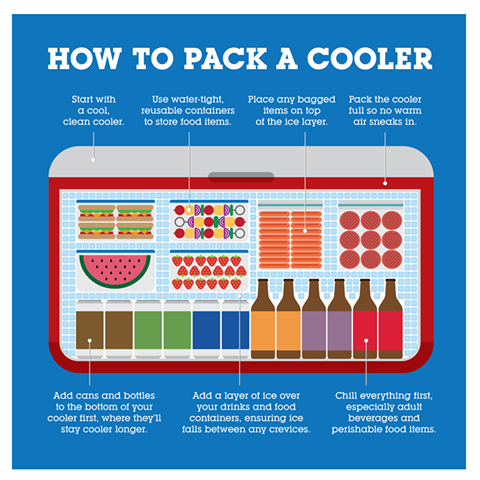 Start with the Perfect Cooler
There is not one right answer regarding the perfect cooler for your particular family travels. If the purpose of the cooler is to make snacks and sandwiches handy during the ride, go for a soft cooler that's big enough to handle the job. That way, you can easily slide it right behind a front seat for grabbing on the go.
Just be sure you test any soft cooler before your trip. Sometimes, they can leak. A good way to test is to lay down a towel (perhaps outside), put the cooler on top, and then pour in some water. Wait a few hours, then go out to see if the towel is wet. Also keep in mind that even a watertight cooler will probably leak if it topples on its side.
If you will be using the cooler heavily at your destination and will store it somewhere large like the trunk, go for a rugged cooler. You might even consider getting a cooler with wheels for beach visits or camping.
The Right Ice for the Cooler
This seems like something that should be so simple, right? Why not just go to your nearest convenience store, buy a bag, and pour it in. Well, unless you like leaks and soggy food, consider other options.
One nice choice is to get flexible ice packs. You can find some that are large and feature ice in a grid line. Place one on the bottom, put your food and …