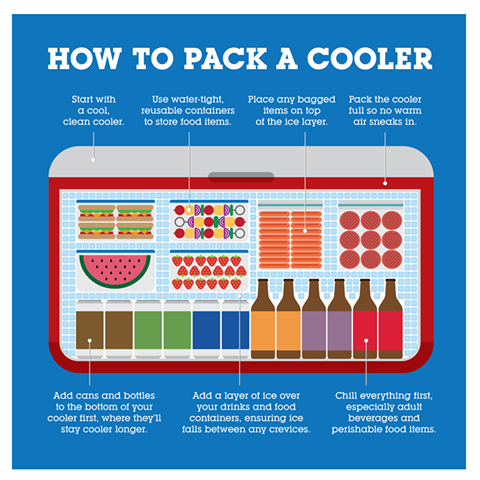 Start with the Perfect Cooler
There is not one right answer regarding the perfect cooler for your particular family travels. If the purpose of the cooler is to make snacks and sandwiches handy during the ride, go for a soft cooler that's big enough to handle the job. That way, you can easily slide it right behind a front seat for grabbing on the go.
Just be sure you test any soft cooler before your trip. Sometimes, they can leak. A good way to test is to lay down a towel (perhaps outside), put the cooler on top, and then pour in some water. Wait a few hours, then go out to see if the towel is wet. Also keep in mind that even a watertight cooler will probably leak if it topples on its side.
If you will be using the cooler heavily at your destination and will store it somewhere large like the trunk, go for a rugged cooler. You might even consider getting a cooler with wheels for beach visits or camping.
The Right Ice for the Cooler
This seems like something that should be so simple, right? Why not just go to your nearest convenience store, buy a bag, and pour it in. Well, unless you like leaks and soggy food, consider other options.
One nice choice is to get flexible ice packs. You can find some that are large and feature ice in a grid line. Place one on the bottom, put your food and drinks inside, and place another on top. You can also use smaller ice packs on top so you can avoid placing ice directly on items like sandwiches, cheeses or fresh produce.
Proper Packing of the Cooler
This is where it can get tricky. You would be quite surprised how quickly even a seemingly large cooler gets filled up. If it's crucial you get everything in, I would test beforehand. You might even consider having a small cooler up front in your car, and another in the back.
Be sure you don't bury items like drinks that you will be fishing for, probably by reaching around and without being able to see what you're doing. Put certain items at the top and away from ice packs like produce and sandwiches (which will get soggy if they get too cold, even if they don't get wet). Get watertight containers for your food items.
Also be sure your food doesn't need any more preparation. Chop fruits, and make sandwiches. Cut cheese, and have crackers stored outside the cooler.
Keeping Your Cooler Cool
This is perhaps one of the toughest issues about traveling with a cooler. You leave with your ice packs and don't think beyond that first day.
You can only freeze those ice packs if you will have a hotel with a refrigerator with freezer (and even then you'll be lucky if you have room to freeze them, or the temperature in the freezer gets cold enough).
There aren't many options, but the best is probably to buy ice or use hotel or motel ice to refill the cooler. This is why it's so crucial to be sure your cooler won't leak, and your food containers won't allow liquid inside.